Hitachi UX21511 LC37 Lamp Housing / Enclosure / Cage / Assembly / Box
Abstract: This guide is to get you more familiar with your Hitachi TV and your replacement lamp options
Keywords: Hitachi UX21511 LC37 Lamp Bulb UHP Housing Replacement Manual Guide Repair Troubleshoot
BODY:
The Hitachi UX21511 Enclosure at first glance is very similar to the Hitachi UX21513, UX21517, UX21518, and other Hitachi enclosures, but it's different 😉
The Hitachi UX21511 Enclosure uses lamp type LC37. The enclosure is made up of the following pieces:
External Sheet Metal Cage/Housing: part number: NA63991
Internal Sheet Metal: part number: NA72182
Plastic Shell/Cage: NT0455
Clip, holding down the lamp: NA63941
Here are a couple of pictures of the enclosure: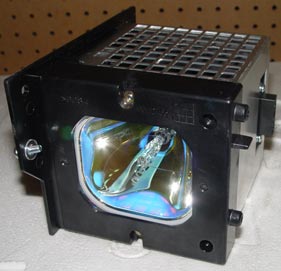 At first glance, this Hitachi enclosure looks similar to other enclosures reviewed on this site, but there are a few minor, but extremely important differences. All in all this enclosure is compatible with at least the following TVs:
50V500
50V500A
50VX500
60V500
60V500A
60VX500
Let us know if we need to edit this blog entry with additional compatible models!
So what's different about this enclosure?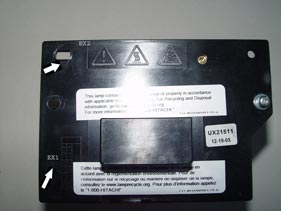 The rear "pull out" view of the enclosure is shown here. Shown with arrows, we have EX1) and EX2) .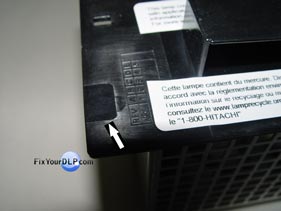 In the picture above, you can see (EX1 ) that no visible hole drilled out on the Hitachi UX21511 Type A, however, on other Hitachi enclosures such as the UX21513 Type B, this area has been drilled out.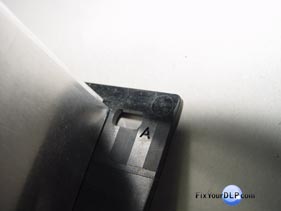 In photo3, we're looking at the area EX2 (opposite side of the enclosure), which has been drilled out and is stamped with an "A"
Now that we've identified your Hitachi enclosure, how do we disassemble it?
All our user guides are available at: http://guides.fixyourdlp.com
Ok…but how do I know if my Hitachi Projection LCD TV has a bad lamp? How do I diagnose my TV in general?
Here's a quick Q&A that might help…
Does the LAMP LED indictor stay on (solid)?
If yes, you probably have a bad lamp. Replace and recheck. If not lamp, your ballast is not lighting your lamp…replace that if still no power.
Does the LAMP LED indictor blink continuously?
If yes, than the lamp sensor door might be acting up…or you just don't have the lamp cover in place. Without the lamp cover, your Hitachi TV will not power on. If you've never tampered with this cover, we suggest removing the lamp cover, taking out your lamp enclosure and visually inspecting your lamp. If it looks ok, without any bulges in the center of the filament or other signs of damage, replace the lamp enclosure back in place, tighten all screws, and carefully place the rear lamp cover back on. Check to make sure the lamp door cover is being activated.
Does the TEMP LED indictor stay on (solid)?
If yes, your TVs internal temperature is too high. Make sure there is decent ventilation on the back side of the TV. If the TV is in a sealed entertainment center, this could be the problem. Remove your TV from the current air-restrictive environment and try to turn it on again…if problem persists, contact an authorized Hitachi servicer.
Does the TEMP LED indictor blink continuously?
If yes, one of your internal fans might be malfunctioning. Check fan functionality. Remember it is normal that your TEMP LED blinks continuously until it cools down…this could take up to 3 minutes.
Does the POWER LED indictor Blink continuously (FAST)?
If yes, temperature sensor near fan is too hot. Allow TV to cool down. Do not unplug from the wall!
Does the POWER LED indictor fail to come on?
If yes, replace lamp.
Read everything so far, so where can I get a good deal on a replacement lamp?
If you're looking for just the bare bulb/lamp, click here:
If you're looking for the complete lamp enclosure (lamp and housing assembly already put together), click here:
OK, so…I got all that, but where's my lamp enclosure located??
Click here for lamp replacement instructions from Hitachi's instruction manual