BEWARE!!! CLONED PHILIPS UHP LAMPS. A few weeks ago we wrote an article about generic, copied, and illegal lamps. We briefly just upon "copied" lamps. You are read the article here:
A series of false, cloned Philips lamps have appeared on the market recently. These lamps are refurbished and/or rebuilt with cheap components from third party manufacturers, yet they preserve the original Philips badge…further confusing buyers out there! These are NOT from Philips! Again, we stress the importance of purchasing replacement lamps from authorized distributors!
Just a few days ago someone brought a lamp to the shop, telling me that he just got it from the web for a cheap price. Problem was, the lamp stopped working after a few days. Customer was getting the three blinking lights on his Samsung DLP TV. He just bought the lamp so he was hesitate about assuming a manufacturer's defect. Upon closer look, the lamp had a strange squar-shaped glass at the front. Luckily he had his original Philips lamp and he quickly noticed the differences. Only upon close examination was it very obvious that it wasn't made by Philips.
Why would Philips place a square glass on a round lamp??? No, they didn't, and they wouldn't!
See what I mean…
So let's take a closer look at these "refurbished" lamps. The original from glass has removed, the original burner (or filament) was removed only sparing the reflector. While the lamp theoretically has a new burner and a new front glass, this in no way compares to the original Philips product!
Philips uses a patented pending technology on the filament. Not only are these burners created by very expensive machinery, they are also aligned by laser guided robotic "arms." Most generic lamp manufactures do not have the capital or necessary R&D to develop these machinery, and so their installations are done by hand, one by one. As a result, generic installations of the burner can never match the original in quality.
It's fine and dandy to sell a generic product, lots of companies out there do it (and we're here to point out these companies), but these guys crossed the line when they deceit the consumer on purpose by leaving the Philips trademark logo intact. This company is misleading consumers into thinking they are buying an original Philips product for a slightly lower price. If a price is too good to be true, it's usually a scam. Only trust authorized Philips Dealers!
With consumers being short on cash these days, some companies are trying to take advantage. Ultimately it is the consumer who ends up paying more because their bulb has a shorter lifespan, hence, they have to replace them more often. I'll say it again, only buy from authorized Philips Distributors.
The end result….be a smart shopper and do your homework. Spending an extra 5 minutes getting the nitty gritty details can save you a lot of headaches down the line.
To buy ORIGINAL PHILIPS Lamps please visit http://www.discount-merchant.com
Here are the photos of the lamps side by side so you can judge for yourself.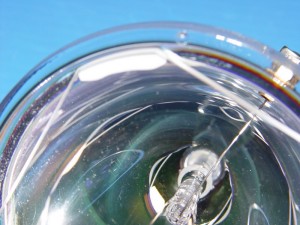 This is a close-up shot of the front glass and reflector. Though this is a poor image (sorry!), you can see the reflector is not in the best condition (specs of the mirror material has come off), and the front glass is not the original.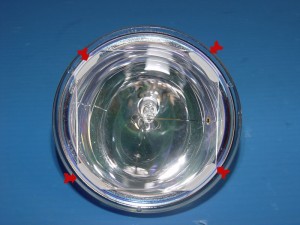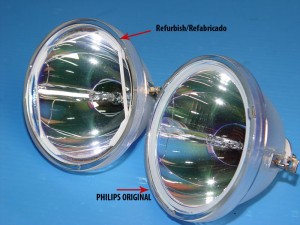 Here are the two lamps side by side…the Philips original on the bottom right, and the generic "Philips" on the top left.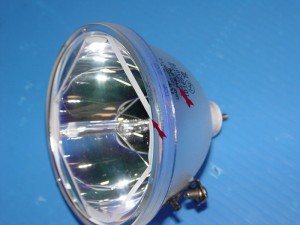 This is the generic "Philips" E23 100/120 1.0 bulb…image speaks for itself.