How to replace Toshiba lamp enclosure for your DLP TV
Step 1.- First of all, unplug the TV from the wall outlet. You have a few thousand volts going through your ballast, be very careful! It's also a good idea to let the TV cool down for a good 15-20 minutes as the bulb itself can get extremely hot.
Locate the lamp enclosure door; it's usually at the side of your television (it's on the right side if you're looking at the back of the TV).
Step 2.-There is a hexagonal screw that secures the door to the lamp enclosure.
To remove it you need to use a Hex key (also known as Allen key).
Once the door is loose you can easily take it out.
Step 3.- Inside you'll be able to find the lamp enclosure with the lamp, to take it out you first have to loosen the two screws on the bottom of the enclosure with a standard Philips screwdriver.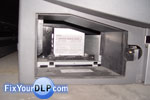 Step 4.- Pull out the enclosure from inside your TV.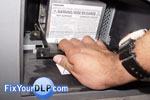 Step 5.- Take your new enclosure and insert it inside.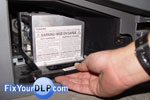 Secure the new enclosure by tightening the two screws at the bottom.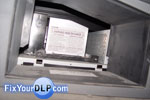 Step 6.- Reinstall the lamp enclosure door with the Hex key and congratulation, you are done!
To replace the lamp from your enclosure we have a step by step guide of the TBL4-LMP model to help you.
Buy Toshiba TBL4-LMP Lamp Replacement 72782309A
If you would like to purchase the lamp enclosure for any Toshiba TV we recommend you visit Discount Merchant and type in your part number, they offer a wide selection of top quality products.