Please read carefully!
FixYourDLP.com has identified a potential hazard that may severely damage your Samsung TV with lamp code BP96-01653A!
Samsung DLP lamp units, model BP96-01653A may fail due to improper insertion. We discovered this while doing some tests on these enclosures. If you don't install the BP96-01653A firmly into the TV, the housing connector may cause damage to both the ballast and the lamp—or even worse a fire.
You'll know immediately if there's something wrong because as soon as you turn your television on, and there's white smoke emanating from the back of your television.
You should shut your television off immediately and open your lamp door and pull out that lamp. Inspect it and hopefully, you've just burned the connectors to the ballast, and not the ballast itself. Our testing has only caused the connectors to burn or melt, but don't take any chances—we've never seen a fire, but we also don't rule out the possibility of fires either.
Here is a correct installation method and the reasons why a bad installation will cause the connectors to burn:
IMPORTANT SAFETY WARNING
Regarding the installation of a BP96-01653A lamp  unit into a Samsung DLP Television.
Installation
Step 1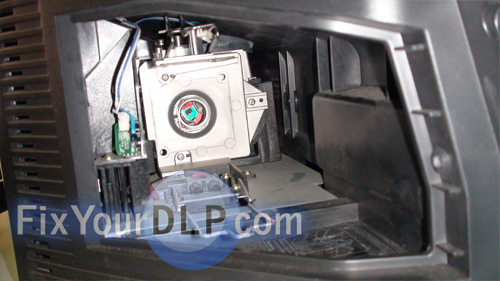 Figure A – Open panel, lamp unit removed
You must install the lamp unit to fit snug with the ballast connector.
To do this, align the lamp unit with the female ballast connector facing down, on the bottom side of the enclosure, then slide the lamp unit until it snaps into place. Check to make sure the unit is firmly inside the television.
Step 2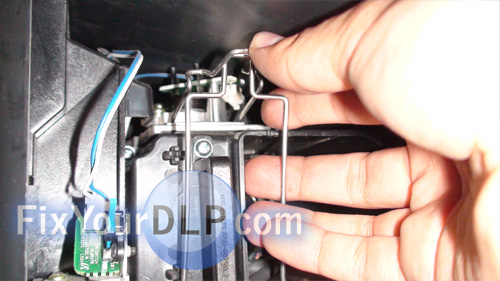 Figure B – Snapping the lamp into place
Snap the wire brackets in tightly by lifting the bottom set up to meet with the top bracket. The wire bracket keeps the lamp and lamp enclosure seated properly to reduce the risk of fire.
when installed properly, the unit should sit secure and slightly elevated from the floor of the compartment.
Step 3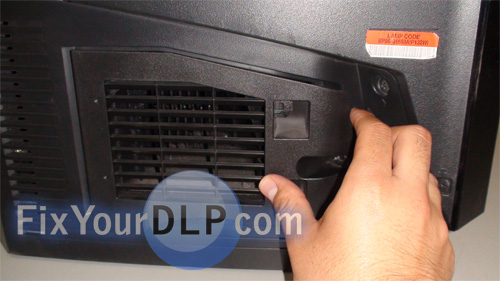 Figure C – Close back panel securely
Once the lamp is firmly secure, close the back panel to engage the blue lamp door sensor switch. Leaving the door open will prevent the television from starting up.


Important Damage or Fire Warning

Because of the nature of the ballast or lamp driver, there is a risk of damage or fire to your television set.
The ballast ignites the lamp with up to 20kV of electricity to arc the gas tube inside. If the ballast does not have a firm connection with the lamp unit, the arc will occur between the ballast connectors (from the ballast to the lamp), which may cause a fire, or melt your plastic connectors. Indications of this are a rapid clicking sound, a burning smell, and/or a non-functioning lamp. If you improperly install the lamp into your television causing a ballast or lamp failure, this may void your warranty for the television or the lamp product.